Product Summary
The MC68HC11K1CFN4 is a microcontroller unit (MCUs). The device, with a nonmultiplexed expanded bus, is characterized by high speed and low power consumption. The fully static design of the MC68HC11K1CFNE4 allows operation at frequencies from 4 MHz to dc.
Parametrics
MC68HC11K1CFN4 absolute maximum ratings: (1)Temperature: -40 to + 85℃; (2)Frequency: 4 MHz.
Features
MC68HC11K1CFN4 features: (1)M68HC11 CPU; (2)Power Saving STOP and WAIT Modes; (3)768 Bytes RAM (All Saved During Standby); (4)24 Kbytes ROM or EPROM; (5)640 Bytes Electrically Erasable Programmable Read Only Memory(EEPROM); (6)Optional Security Feature Protects Memory Contents; (7)On-Chip Memory Mapping Logic Allows Expansion to Over 1 Mbyte of Address Space; (8)PROG Mode Allows Use of Standard EPROM Programmer (27C256 Footprint); (9)Nonmultiplexed Address and Data Buses; (10)Four Programmable Chip Selects with Clock Stretching (Expanded Modes); (11)Enhanced 16-Bit Timer with Four-Stage Programmable Prescaler; (12)8-Bit Pulse Accumulator; (13)Four 8-Bit or Two 16-Bit Pulse Width Modulation (PWM) Timer Channels; (14)Real-Time Interrupt Circuit; (15)Computer Operating Properly (COP) Watchdog; (16)Clock Monitor; (17)Enhanced Asynchronous Nonreturn to Zero (NRZ) Serial Communications Interface (SCI); (18)Enhanced Synchronous Serial Peripheral Interface (SPI); (19)Eight-Channel 8-Bit Analog-to-Digital (A/D) Converter ; (20)Seven Bidirectional Input/Output (I/O) Ports (54 Pins) ; (21)One Fixed Input-Only Port (8 Pins); (22)Available in 84-Pin Plastic Leaded Chip Carrier (PLCC), 84-Pin Windowed Ceramic Leaded Chip Carrier (CLCC), and 80-Pin Quad Flat Pack (QFP).
Diagrams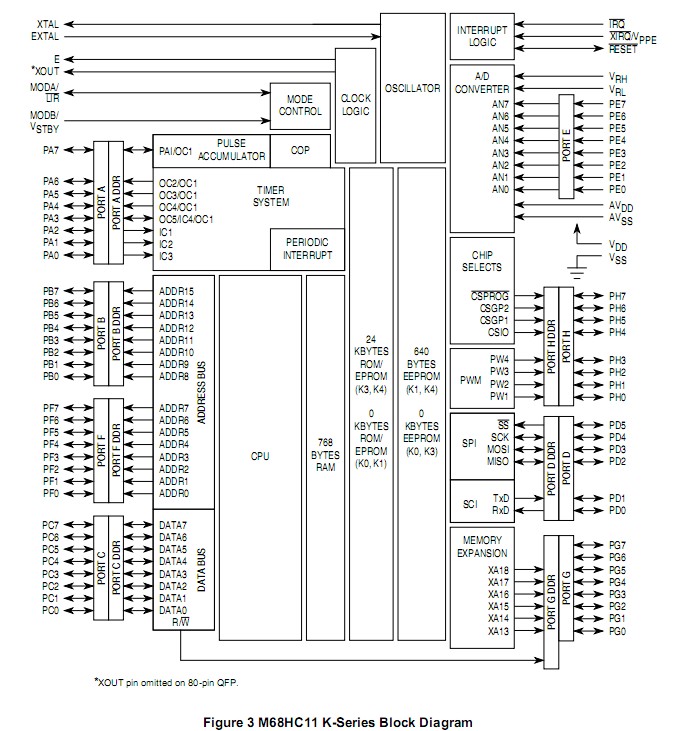 Image
Part No
Mfg
Description
Pricing
(USD)
Quantity

MC68HC11K1CFN4



IC MCU 640 EEPROM 4MHZ 84-PLCC

Data Sheet

Negotiable
Image
Part No
Mfg
Description
Pricing
(USD)
Quantity

MC68331CEH16

Freescale Semiconductor

32-bit Microcontrollers (MCU) 32BIT MCU GPT SIM QSM

Data Sheet



| | |
| --- | --- |
| 0-1: | $13.44 |
| 1-25: | $12.18 |
| 25-50: | $9.69 |
| 50-100: | $8.92 |


MC68332GVAG16

Freescale Semiconductor

32-bit Microcontrollers (MCU) 32B MCU 2KRAM TPU QSM

Data Sheet



| | |
| --- | --- |
| 0-1: | $13.25 |
| 1-25: | $9.77 |
| 25-50: | $9.38 |
| 50-100: | $8.65 |


MC68331CAG16

Freescale Semiconductor

32-bit Microcontrollers (MCU) 32B MCU GPT SIM QSM

Data Sheet



| | |
| --- | --- |
| 0-1: | $10.94 |
| 1-25: | $9.91 |
| 25-50: | $7.89 |
| 50-100: | $7.26 |


MC68230

Other



Data Sheet

Negotiable

MC68194

Other



Data Sheet

Negotiable

MC68160C

Other



Data Sheet

Negotiable