Product Summary
The H5F-B is a Daily Time Control with Simple Operations (Operation Day Selection Possible).
Parametrics
H5F-B absolute maximum ratings: (1)Rated supply voltage: 100 to 240 VAC (50/60 Hz); (2)Operating voltage range: 85% to 110% of rated supply voltage; (3)Power consumption: Approx. 2.4 VA at 264 VAC; (4)Control outputs Contact output: SPST-NO, 15 A at 250 VAC, resistive load, 10 A at 24 VDC, resistive load; (5)Control outputs Minimum applied load: 100 mA at 5 VDC (failure level: P, reference value); (6)Terminal screw tightening torque 0.98 to 1.17 N · m.
Features
H5F-B features: (1)Up to 12 ON/OFF operations (24 for pulse-output operation); (2)Special holidays can be handled easily with the holiday setting function; (3)Adjustments for sudden schedule changes can be made easily using output override and automatic return operation; (4)The operation program can be checked easily with the program check function; (5)Enables pulse output operation and summer time setting; (6)Incorporates finger-safe terminals; (7)Conforms to UL, CSA, and CE marking; (8)Meets a variety of mounting requirements: flush mounting, surface mounting, and DIN track mounting.
Diagrams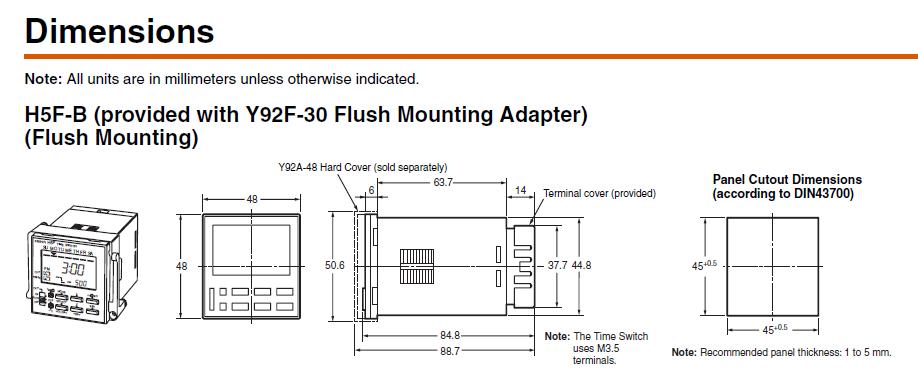 Image
Part No
Mfg
Description
Pricing
(USD)
Quantity

H5F-B

Omron Industrial

Stopwatches & Timers FLUSH MNT DAILY

Data Sheet



| | |
| --- | --- |
| 0-1: | $142.20 |
| 1-10: | $137.96 |
| 10-25: | $117.00 |
| 25-50: | $112.72 |

Image
Part No
Mfg
Description
Pricing
(USD)
Quantity

H5F-B

Omron Industrial

Stopwatches & Timers FLUSH MNT DAILY

Data Sheet



| | |
| --- | --- |
| 0-1: | $142.20 |
| 1-10: | $137.96 |
| 10-25: | $117.00 |
| 25-50: | $112.72 |


H5F-FB

Omron Industrial

Stopwatches & Timers Timer Weekly

Data Sheet



| | |
| --- | --- |
| 0-1: | $137.08 |
| 1-5: | $134.02 |
| 5-10: | $129.40 |
| 10-25: | $124.78 |


H5F-KB

Omron Industrial

Stopwatches & Timers TRACK MNT DAILY

Data Sheet



| | |
| --- | --- |
| 0-1: | $148.57 |
| 1-10: | $138.25 |
| 10-25: | $129.28 |
| 25-50: | $121.39 |